CHECK OUT METAL MIKE's TEACHING AND METAL HEROES MUSIC ACADEMY 
---
LATEST NEWS
---
DECEMBER 10, 2021
METAL MIKE RELEASES "CHROMATICITY 2" GUITAR INSTRUCTIONAL BOOK
Chromaticity 2 is Mike's 4th guitar instructional book designed to help improve the chops of fellow Metal guitar players. As a follow up to the original Chromaticity book, Metal Mike delivers an explosive selection of curated exercises ranging from Classical guitar repertoire to fusion tinged Chromatic lines. Chromaticity 2 is the perfect manual to sit down with while you put in some solid time with your guitar. Book features 13 pages, 19 exercises with tablature, left hand fingerings, picking suggestions and detailed, pro-level performance tips. Chromaticity 2 should find a place in the arsenal of any serious Metal player. $21.00 - US Orders Only. Enjoy Free Shipping!
Each book comes signed by Metal Mike.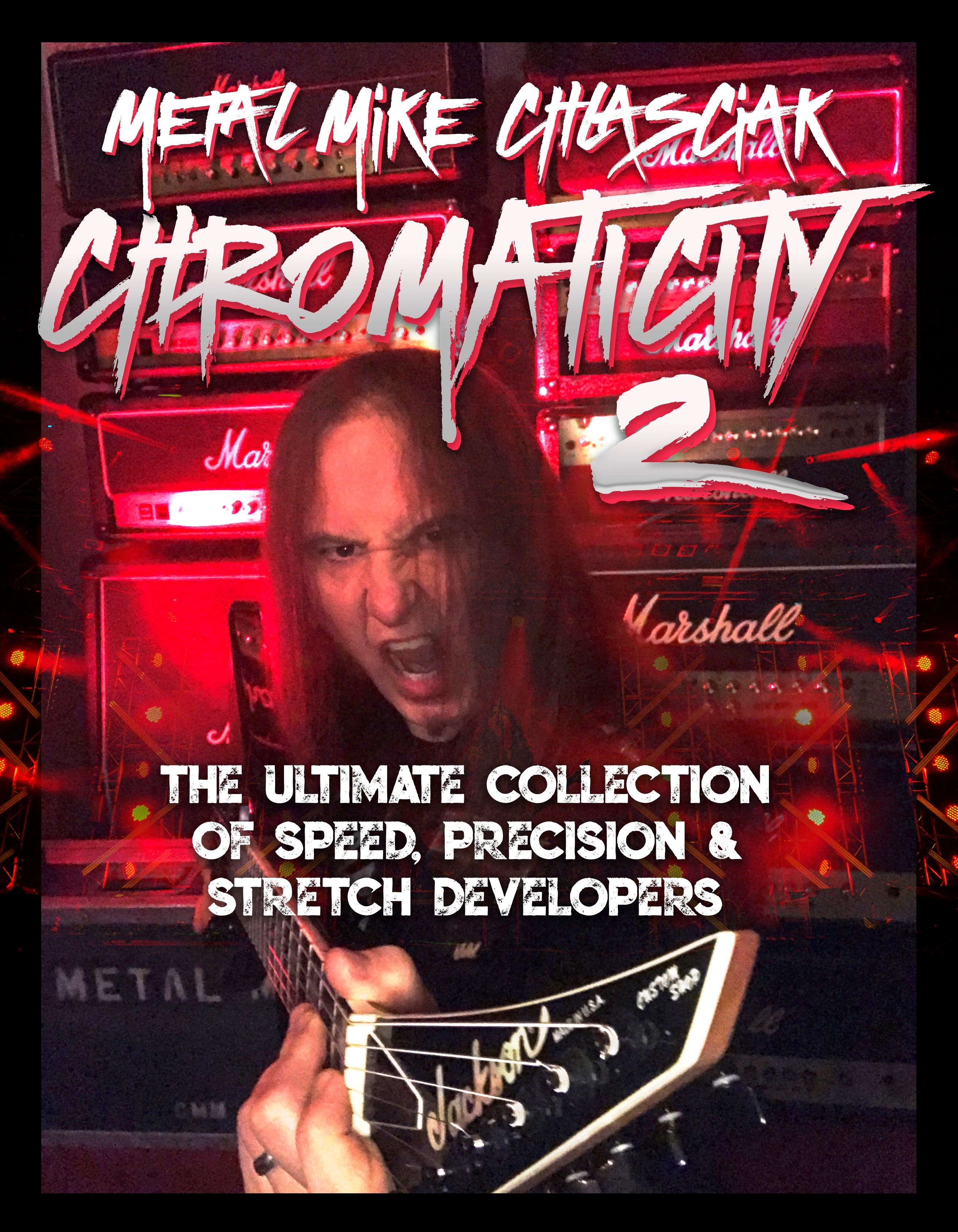 No paid magazine reviews here. Here's what my actual students have to say! 
"Metal Mike does a great job again with Chromaticity 2. He puts in great exercises to get your fingers moving. I recommend this for anyone who is looking to advance further with their chops." ... Jim (MA)
"No need to waste time searching the internet for exercises. Metal Mike provides quality instruction and material to help Metalheads achieve their goals." ... Troy (NJ)
"Overall Chromaticity 2 is an all-encompassing as an instructional book can be. Frankly if this won't turn you into a speed demon Metal shredder, then it is on you." ... Mark (CA)
"I have Chromaticity 1 and this new book is a solid follow-up. I use these books for warming up and working on my technique. I am very pleased with the exercises in this book." ... Rich (NJ)
"Chromaticity 2 is a must have. While you're at it, get Chromaticity 1 because together those 2 books will help you become the shredder that you want to be." ... Jim (PA)
Check out Mike's other books available in our STORE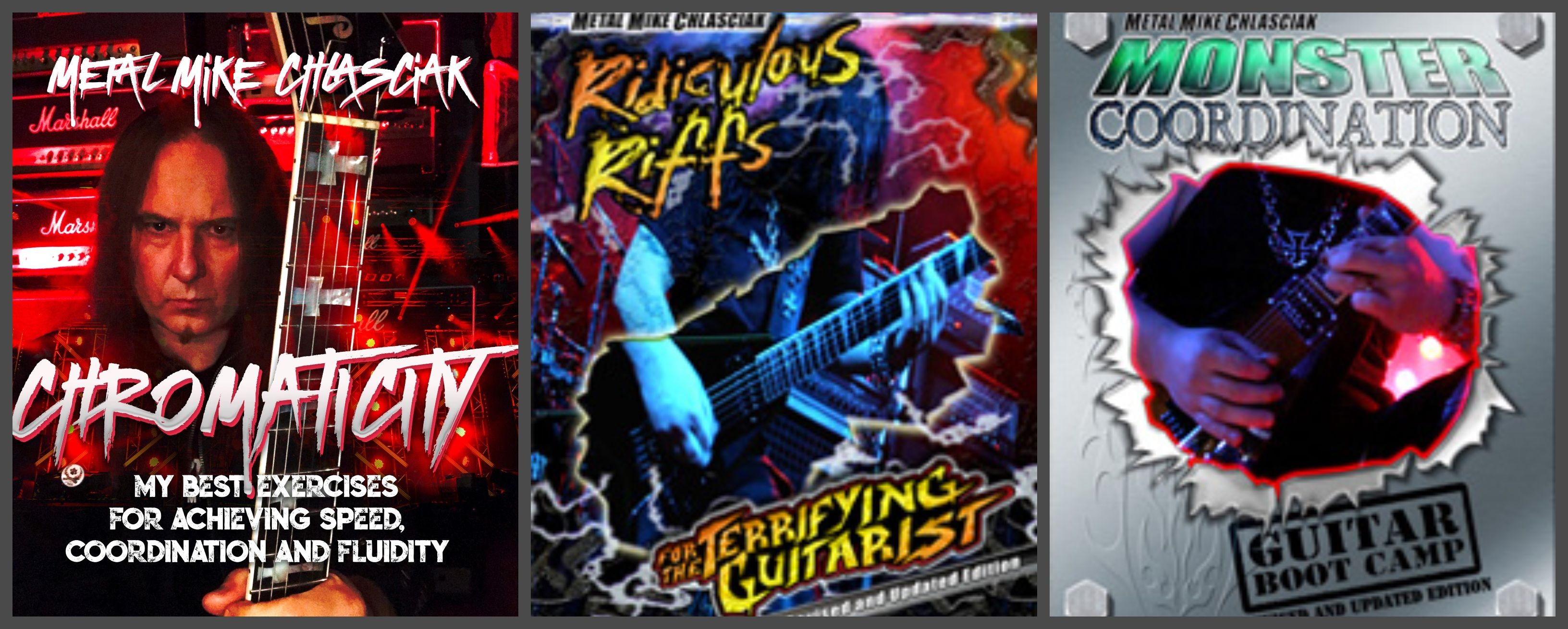 ---
Thank You For Packing The House And Making The 2021 New Jersey Show Amazing!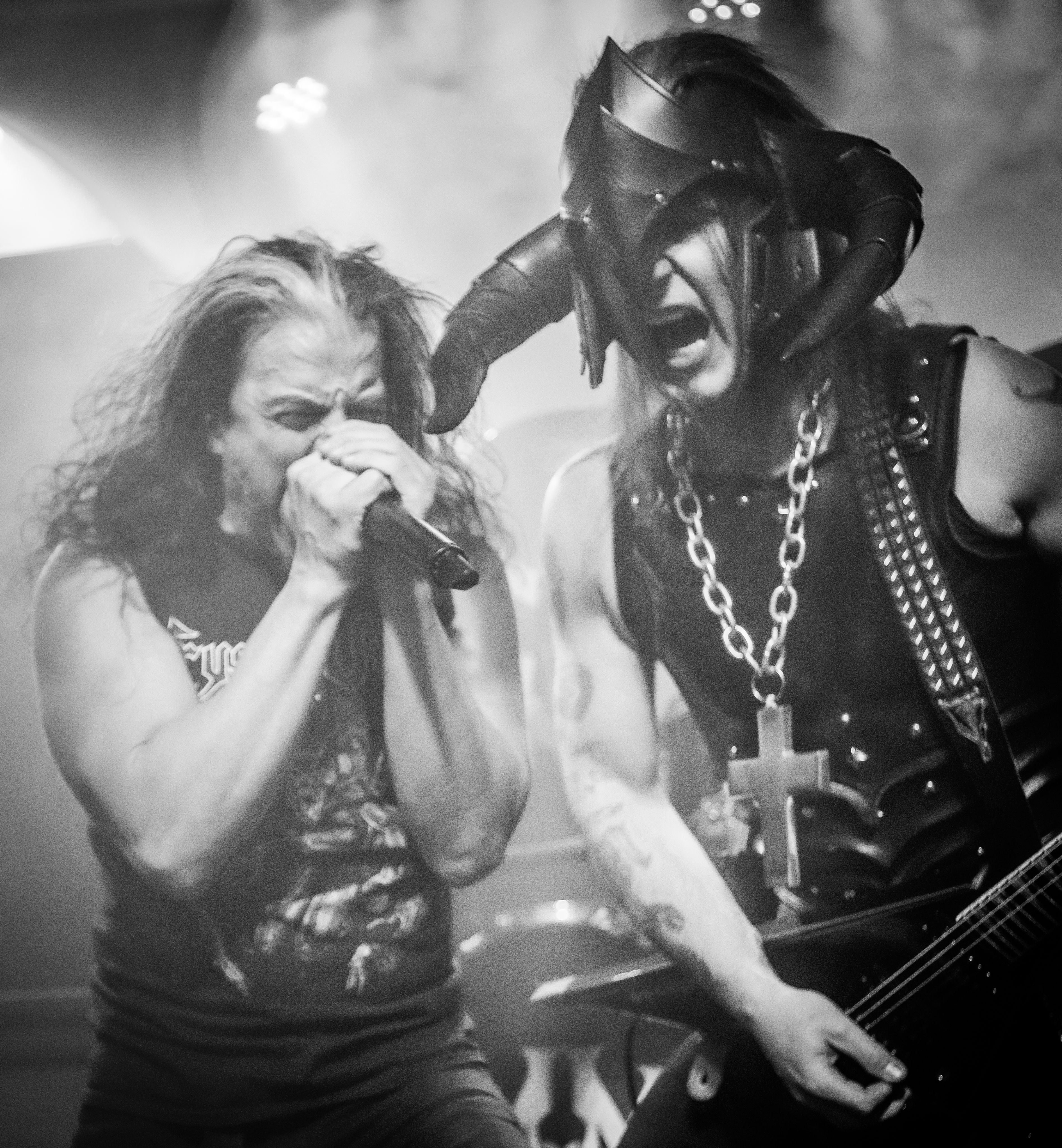 Photo: Danny Blanik
---
MAY 26, 2021
METAL MIKE ANNOUNCES "A NIGHT FOR A TRUE DEFENDER" - VERY SPECIAL NEW JERSEY SHOW
"A Night For The True Defender" will feature Metal Mike's straight to the heart solo material, metal's loved gems and songs fans know from Mike's tenure as The Metal God's guitarist in Halford. The night does not stop there however and MM and the boys will throw down the gauntlet with very special mini-set tribute to the ultimate Metal Gods, the mighty Judas Priest.
Joining Mike at Dingbatz  for this special night are extraordinary metal musicians, namely Halford bassist Mike Davis (Halford, Lizzy Borden), drummer Ron Lipnicki (Overkill) and powerhouse vocalist Marc Lopes (Ross The Boss, Let Us Prey).
Metal Mike comments: "There are events that are staples of my Metal year and our annual celebration of Heavy Metal at New Jersey's very own Dingbatz hits the ultimate highlight status. I love it. It is a show for our friends and fans who live close and travel from afar. I'm very much looking forward to putting the flying Vs and Marshalls into their sentinel metal duty after the world shut down.  We have, so far, done many shows together and now we are bringing things up to an entire new level! We are aiming for maximum club capacity paired with more lights, more smoke and face melting maximum Marshall power. We are also excited to have our bass playing brother Mike Davis with us for this very special show. Due to circumstances beyond our control, our good friend Mike LePond can not make this event. The first call I made was to MD, knowing Mike's thunderous playing will surely help us deliver the goods! Bound together by great songs and a true Metal spirit, this will be an awesome night. Let us together celebrate Heavy Metal, loud guitars and songs that mean a lot to us all. Hope to see you there. Horns Up!"
Says Mike Davis: "I can't wait to share the stage with MM again! Going to be epic jamming with MM, Marc and Ron."
Ron Lipnicki added: "Dingbatz is my favorite place. Can't wait to kick some ass with the guys. It's been way too long!"
Marc Lopes finally added: "So amped to finally bring the METALLLLLLLLLL back to Dingbatz."
Support comes from New Jersey based true metal acts: Lyken 21, Psychoprism and Legion.
Show Details: Saturday, November 27, 2021 Dingbatz, 620 Van Houten Ave, Clifton, NJ 07013 | Doors: 7:00PM. This as an all ages show! 21 to drink. Tickets: Click HERE | *** We suggest buying your tickets early as we expect a full capacity show.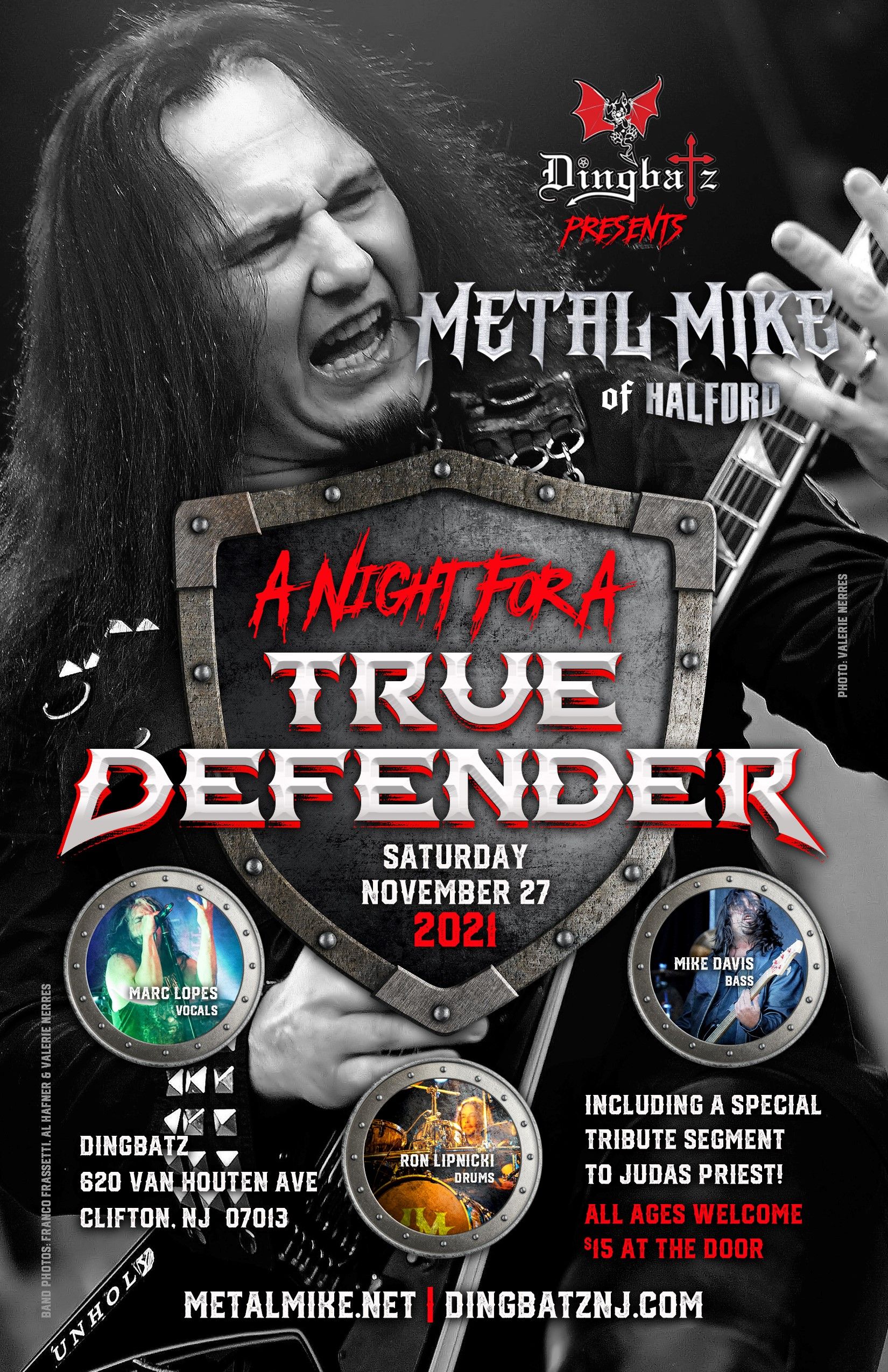 MARCH 8, 2021
METAL MIKE FINALIZES PRE-PRODUCTION FOR A NEW INSTRUMENTAL ALBUM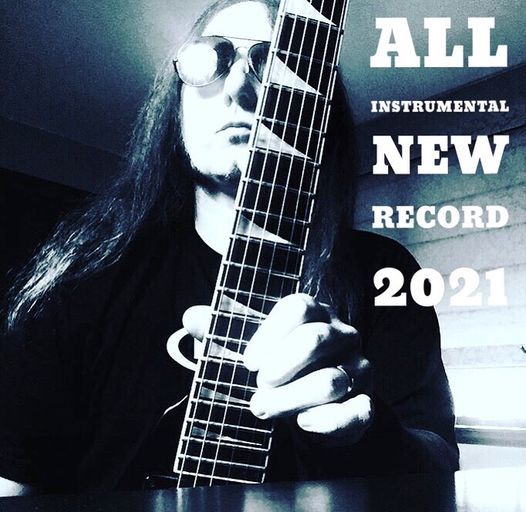 Metal Mike has announced his return to the studio for the follow up to The Metalworker. Mike comments: "Guys, we are beginning to track my new solo record. Excited. While inspired by the 6 stacks deep wall of Marshalls at my studio, I composed music that features huge riffs and songs. Several of the riffs will certainly go down as some of my most memorable of all time. We begin tracking drums with a very special friend of mine."
Watch this space for continued up-dates.
JANUARY 27, 2021
METAL MIKE RELEASES "THE METAL SQUIRE - EARLY BATTLES +4" LIMITED EDITION CD
A 30 year anniversary does not come too often in music. But, it has been indeed over 30 years ago, that Metal Mike began recording guitar demos in order to shotgun his music and talents all over the world. In order to celebrate the 30th, we put together a very special, limited edition CD of Metal Mike's early recordings dating back to his teens. Mike's music, ranging from over the top guitar heroics to original classical guitar compositions, stood on the pillars of melodic themes, emerging technique and out of the box compositions. This is a very cool look at MM many, many years ago. In addition, 4 tracks from early 2000's are added as a bonus. Many of the tracks were transferred from 4 and 8 track analog master tapes. Collection mastered in 2021. Each CD comes numbered and signed by Mike in a silver pen. 12 tracks in total.
Only 100 copies! $11.00
US Orders Only. Enjoy FREE Shipping.
Shipping Approximately February 18th, 2021 or Earlier.
CD Numbers Ship In The Order They Were Purchased.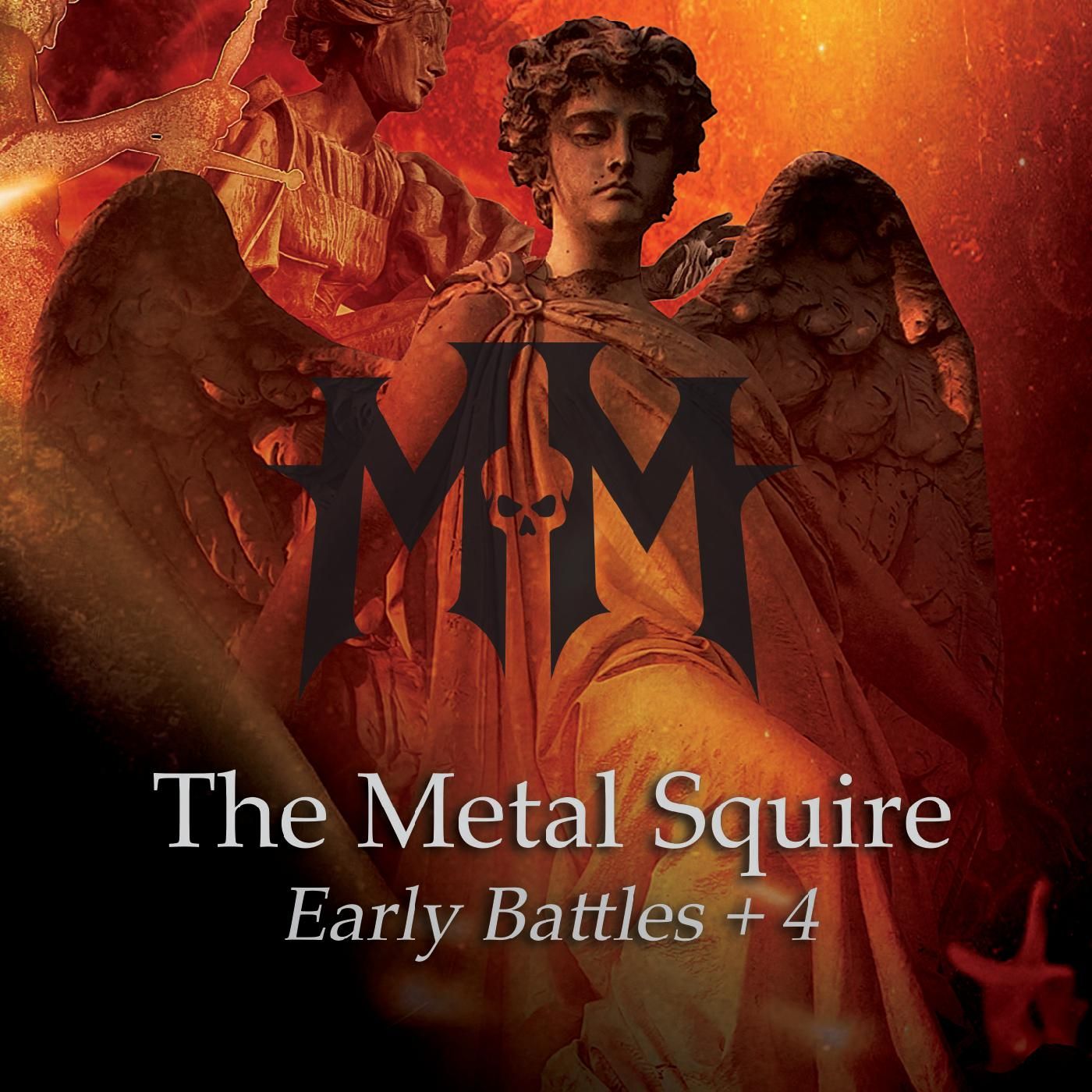 JANUARY 16, 2021
METAL MIKE RELEASES "CHROMATICITY" GUITAR INSTRUCTIONAL BOOK
Chromaticity is Metal Mike's 3rd guitar instructional book designed to improve the chops of fellow Metal guitar players. This book serves as a go-to manual for Mike's best exercises in order to improve your speed, coordination and fluidity. It includes notation, tablature, left hand fingerings, picking tips and performance notes. Available Now. US Orders Only. $20.00.  Enjoy Free Shipping!
Each book comes signed by Metal Mike.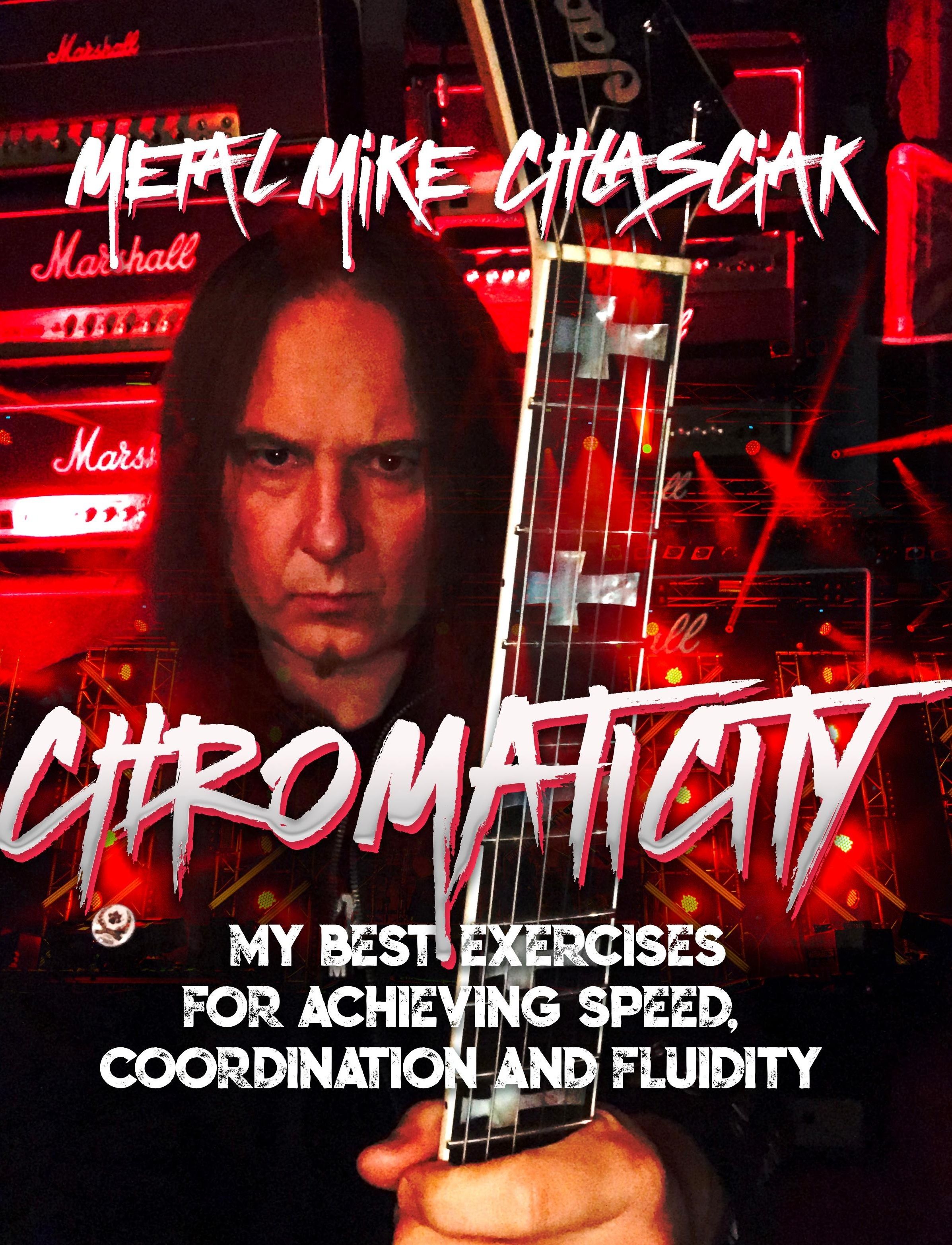 JANUARY 13, 2021
METAL MIKE JOINS IMMORTAL GUARDIAN AS A SPECIAL GUEST ON "INTO THE PIT" By FIGHT
FEBRUARY 11, 2020
NOW IN METAL MIKE STORE - LIMITED TO 100 HAND SIGNED & NUMBERED COPIES
The Metalworker Demos are Metal Mike's personal demonstration recordings while collecting and developing ideas for The Metalworker solo album. These sessions resulted in a mini album that was then delivered to musicians Kevin Talley (Drums) (Six Feet Under), Mike LePond (Bass) (Symphony X, Ross The Boss, Silent Assassins) & Carlos Zema (Vocals) (Immortal Guardian) in order for them to complete their work and ultimately track final performances for the official release. In addition, you will find 6 additional tracks in demo stages to further unveil the curtain behind Mike's creative process. All 15 tracks on this special release are remastered complete songs with drums and guitars. Check it out HERE.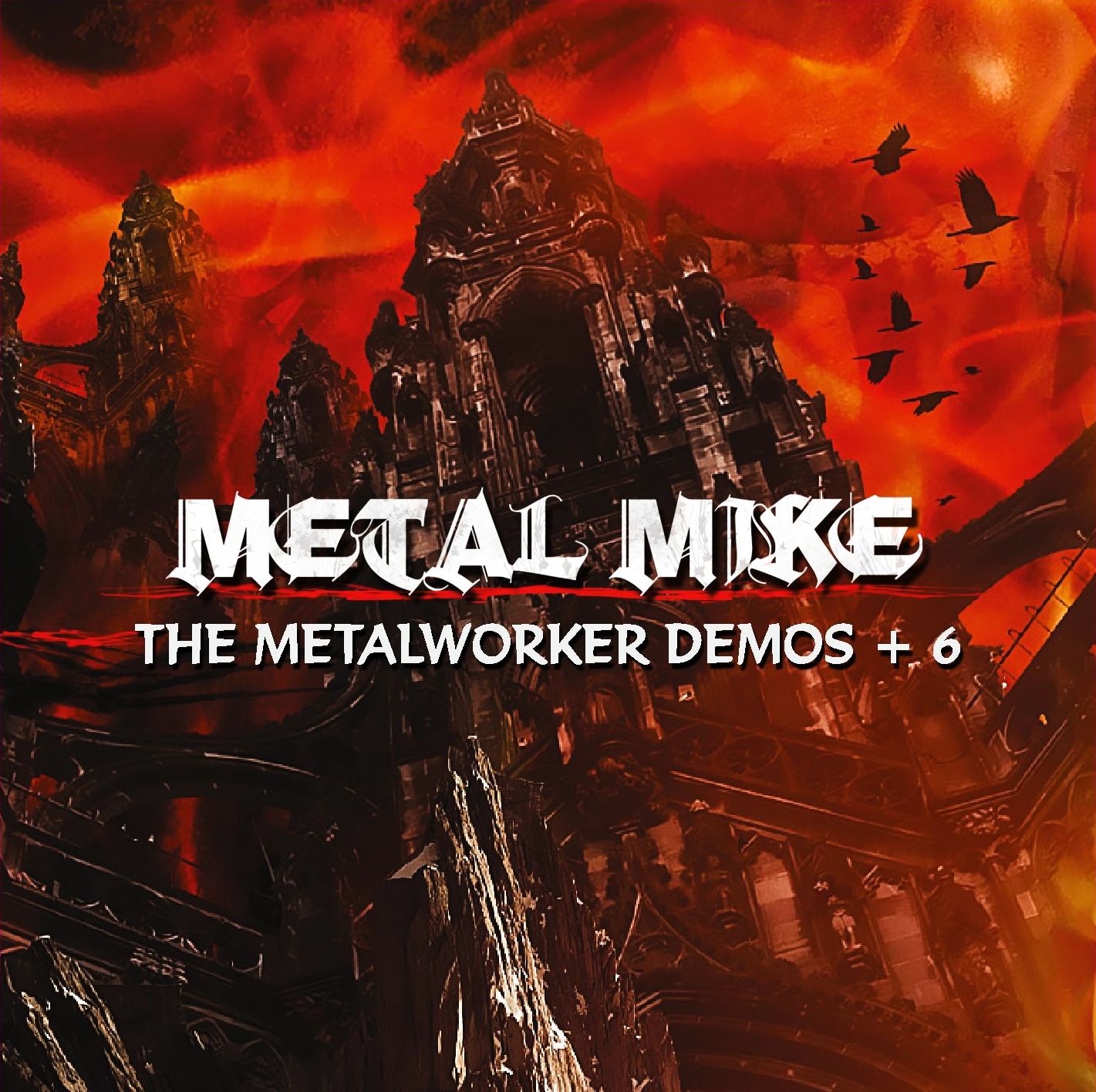 ---
TOUR
---
2021 TOUR DATES ARE HERE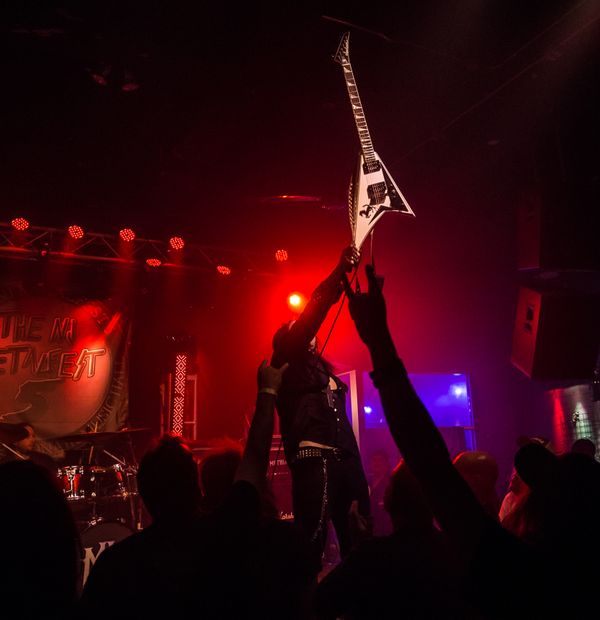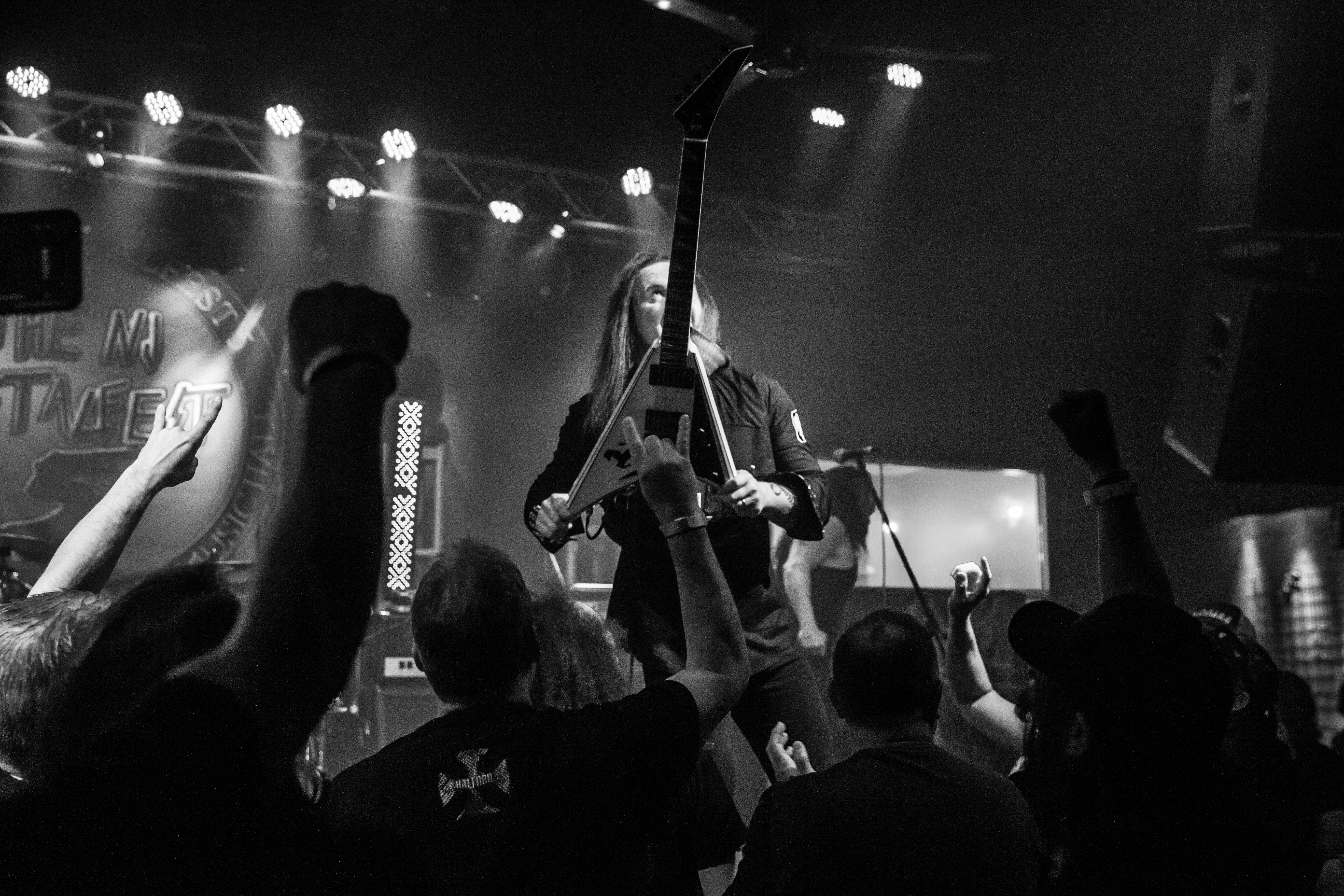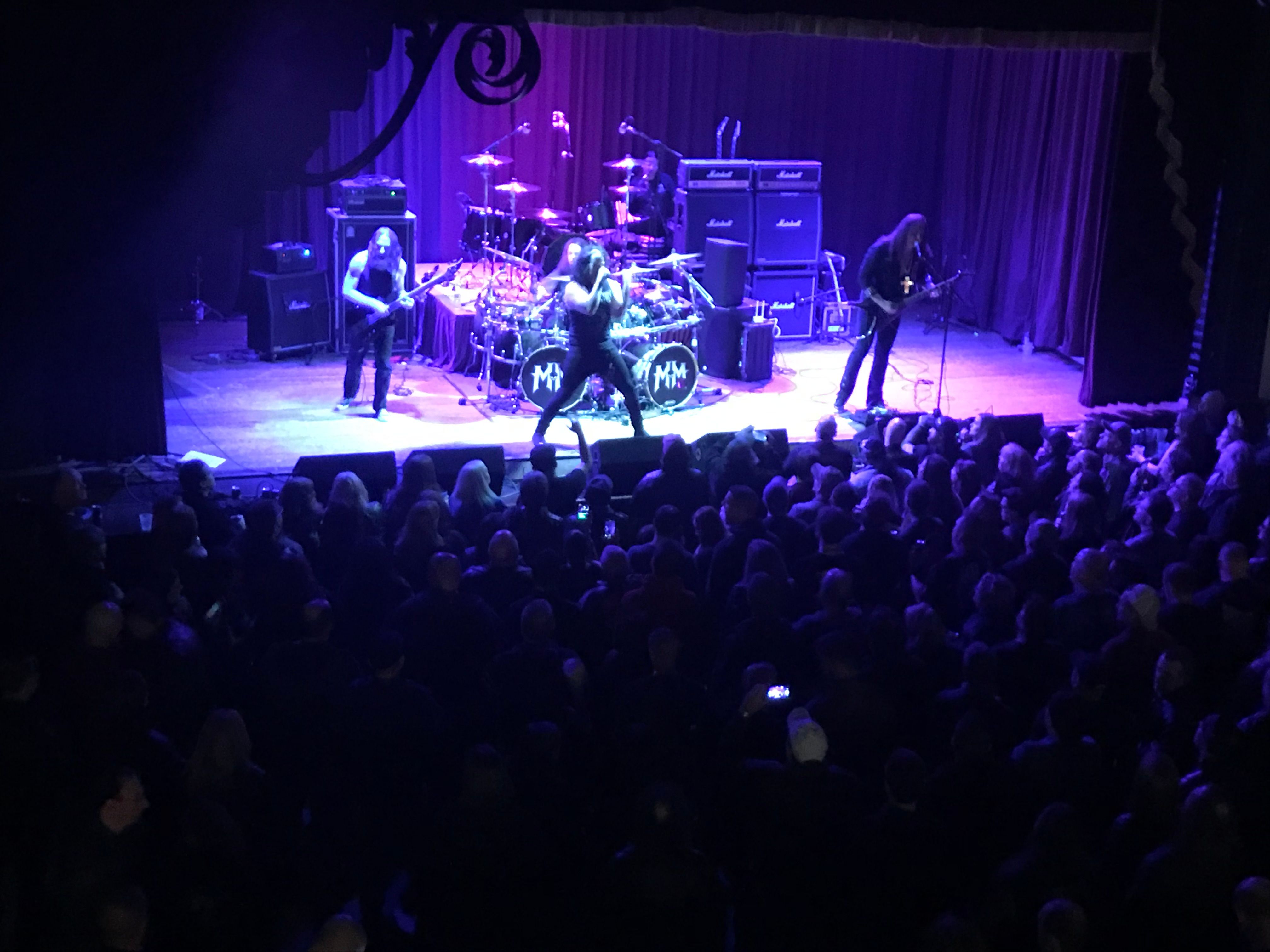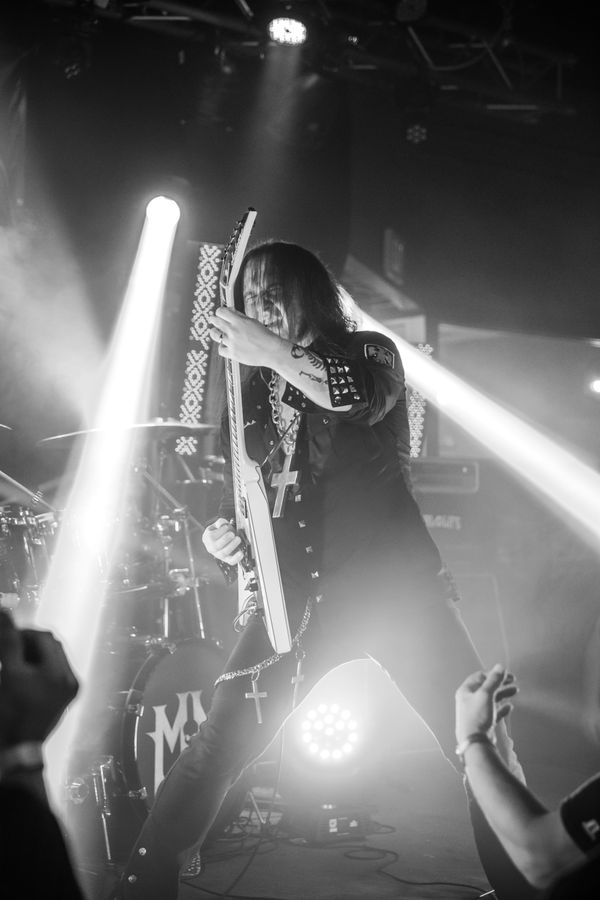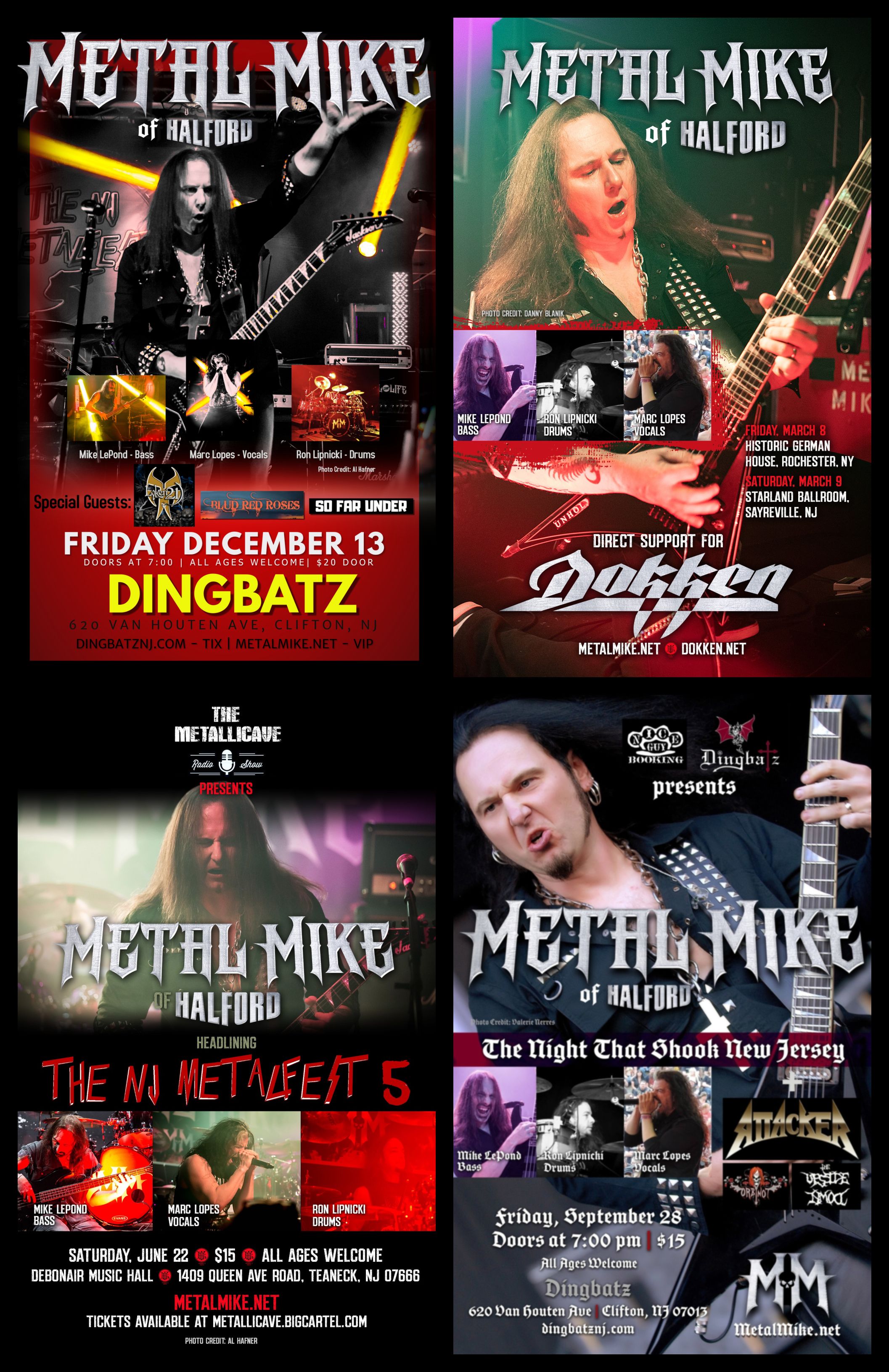 Photo Credits: Al Hafner, Dan Blanik
---
ABOUT METAL MIKE
---
Metal Mike's focused, no frills metal guitar playing took him from 350,000 people at Rock In Rio to Ozzfest to three times at New York City's Madison Square Garden. Metal Mike is a metal recording and touring artist, writer, blogger and an expert heavy metal guitar coach. Mike has recorded and toured the world several times over with Heavy Metal's elite, and is most commonly known as the guitarist to Judas Priest's Rob Halford in the Metal God's solo endeavor Halford.
Mike has recorded or performed with Bruce Dickinson of Iron Maiden, Axl Rose of Guns N' Roses, Sebastian Bach, Testament, Rudolf Schenker of Scorpions, Geoff Tate of Queensryche and Saturday Night Live's Jim Breuer. Throughout his career, Metal Mike has played in over 25 countries while sharing the biggest festival and arena stages on tours with Motley Crue, Iron Maiden, Guns N' Roses and Ozzy Osbourne.
Metal Mike taught hundreds of thousands of people internationally via his 'Metal For Life' Guitar World column, DVDs, books and workshops. Mike leads his own Metal Heroes Academy where his straight forward approach to teaching and love for the guitar often resuls in sold-out Heavy Metal summer camps and guitar retreats.
As a solo artist, Metal Mike has released 7 acclaimed solo albums and has been voted 'Top 10 Metal Guitarist' by the European Magazine Thrash Em All. Metal Mike continues to tour with his solo band. He has shared tours or billing with Steve Morse, late Ronnie Montrose, Yngwie Malmsteen, Amon Amarth, Testament, Sebastian Bach, Primal Fear and Dokken.
 In 2018, Metal Mike has been inducted into the Metal Hall Of Fame along Lzzy Hale (Halestorm), Billy Sheehan (Mr. Big, David Lee Roth, Sons Of Appolo) and Bill Ward (Black Sabbath). 
---
TEACHING
---
METAL HEROES SUMMER COLLECTIVE
 July 5-7, 2022!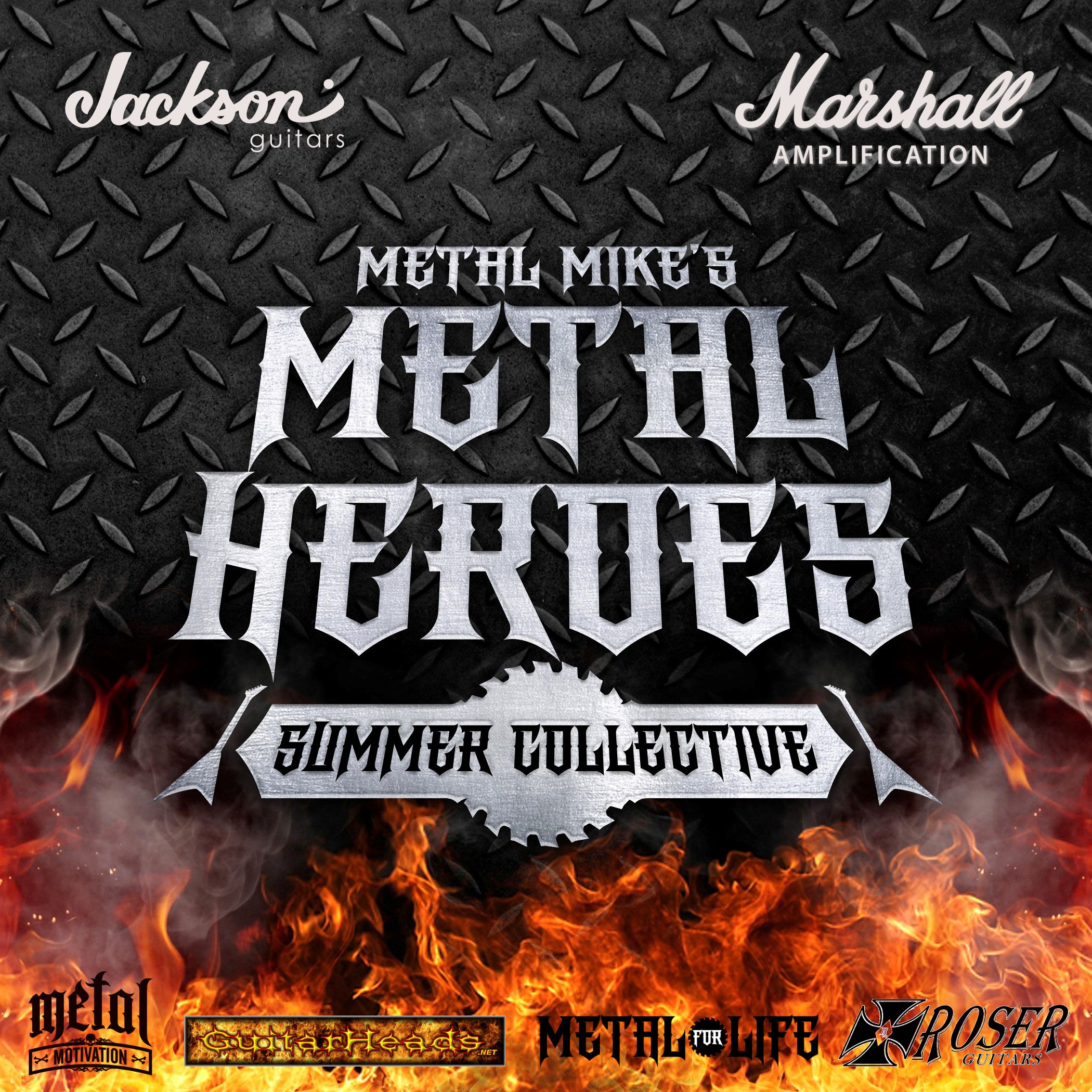 Metal Mike's Metal Heroes Summer Collective is designed to get younger Heavy Metal musicians into a performing group setting. This program features 2 nights and 3 days filled with world class Heavy Metal instruction, friends, BBQs, campfires, lessons, guests and hell of a good time spent with your musician tribe. Open to drums, guitar and bass. Learn to write and perform original songs with Metal Mike. Located at Slide Mountain Forest House Resort in Big Indian, NY. 
$699 per person + tax | $499 spectator + tax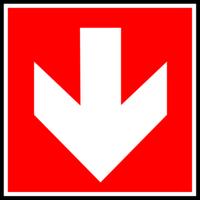 Pre-Register HERE!
"Dylan had an absolute blast. Thanks for all you do to support him."
... Jessica D., NJ
"My son really responded to you. More so than any other teacher he had in the past. Thank you for organizing the weekend and for bringing everyone together."
... Nora H., NY
"Alex had a great time at the Collective and he always plays his guitar in his downtime. I'm so glad he was able to connect with you and learn from you."
... Linda R., NJ
Check out our 2021 pics right HERE!
---
METAL HEROES SUMMER CAMP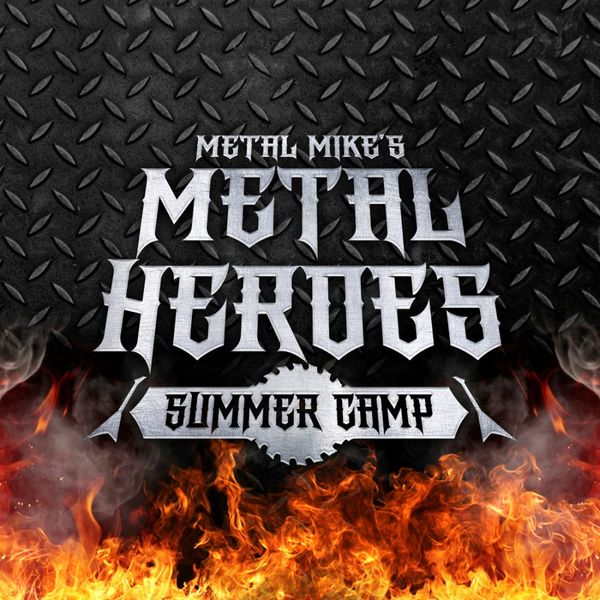 METAL HEROES SUMMER CAMP
We Will See You In 2022!
Metal Mike will host his 7th annual Metal Heroes Summer Camp in 2022 at Slide Mountain Forest House in Big Indian, NY. Designed to teach, motivate and inspire the next generation of rockers Metal Heroes Summer Camp is the ultimate metal music learning experience. 
Click HERE  To Get All The Info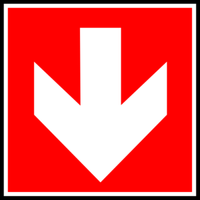 Pre-Register HERE  for the Memories of a Lifetime!
$1399 per person + tax. | $595 parent spectator package + tax.
All packages include restaurant quality meals, snacks, soft drinks, clean lodging, house keeping, use of all equipment and access to all workshops including the final concert performance. We recommend that a parent attends with their camper at the age of 14. (*some exceptions can be made)
And, all we can say is WOW! What an amazing camp we had in 2019!
Developed for young metal-heads in the age group of 14-21, Metal Heroes Summer Camp is designed to teach, motivate and inspire young metal-heads through intense, but fun instruction in heavy metal. The crescendo of this very special vacation experience will take place on the last day when the students will have a chance to perform with Mike in front of their family and friends during a live concert staged at the camp's playground.
I'm very excited to kick off and welcome you to our sixth annual Metal Heroes Summer Camp. Doing an event like this is something that has been on my mind for a very, very long time. I'm psyched to return in 2021 for our seventh annual metal celebration. All rock band instruments are welcome focusing on Guitar, Bass, Drums and Vocals. I hope you will join me on this 100% full-on metal journey. I have always wanted to share my tour and music experiences with younger metal-heads. I'm really looking forward to open up the metal vault with you on so many levels in order to help you sharpen your skills to metal ninja perfection.
While helping you with individual tasks and any challenges you might face, I'll share with you how to make amazing progress when rehearsing with a band, how to quickly apply new material and how to deliver a powerful live performance. I can guarantee this will be incredibly fun and you will learn a lot, too.
You also will get great introductory tips on the music business, how to work well with others, all the while you fully immerse yourself in the music of the metal gods. We'll be jamming together, hanging out together, studying what makes a song or a performance great - while everyone will get a chance to ask their questions and get plenty of one-on-one playing advice. And, of course, get ready to hear countless tour stories which more than likely involve your favorite rockers.
We'll close out the camp with a superb metal concert in front of your family and friends. We have several other activities planned which include a metal discovery lounge, metal movie nights, specialized guitar workshops and much more. Campers will also have a chance to check out various items from my journeys that include custom guitars, dressing room signs, posters, tour itineraries and more. While all the metal-heads are enjoying a great time hanging out and jamming with their friends old and new, guitarists will be studying guitar lick packs especially designed for the camp, while drummers and bass players will learn the secrets of a tight metal rhythm section through metal clinics. I will be there overseeing the entire day to lead rehearsals and go over song parts.
I really want the kids to experience the power of rock and metal music and have a lot of fun while doing so, because ultimately, no one picks up an instrument not to have fun with it. So, if spending nearly a week at a beautiful resort like location while immersing yourself in all things metal sounds good to you – then let's rock! This is for you. Metal For Life!"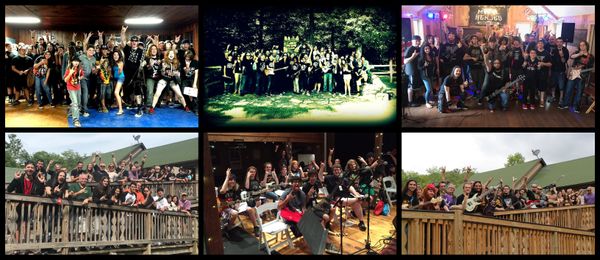 ---
ULTIMATE METAL GUITAR RETREAT
NOVEMBER 4-6, 2022

TAKE A WEEKEND METAL GUITAR TRIP
SURROUND YOURSELF WITH GUITARISTS JUST LIKE YOU!
This is For YOU - The Ultimate Metal Guitar Retreat For Adult Players!
November 4-6, 2022 

Pre-Register Right HERE 
 $550 per person. | Package includes lodging, food and all workshops. 
"Metal Mike puts a lot of effort into the retreat, ensuring a great experience. 3 years in a row. Looking forward to many more."
... Troy Y., NJ
"Great lessons and great people. No egos! Mike, you do a great job bringing in people with excellent attitudes."
... Sam C., PA
"This was my first retreat and it wildly exceeded expectations - great learning, hang-time, guy food, location. Definitely the highlight of my year. Where else can you go to find other guys who know about bands like Wolf, hear great road stories from the man who's lived them, and walk away a better guitar player with a bunch of new friends?"
... Scott K., CA
"The retreat is something I look forward to every year. This last one was my 4th and it's only getting better. The lessons with Metal Mike are great for motivation & becoming better on the guitar. You meet like minded guitarists and Metal fans."
... Rich S., NJ
"In the 48 hours of the retreat, I think my picking hand was moving 24 hours. I really got a lot out of this fun experience." ... Steve V., CO
    Check Out Pics From Our 2021 Session HERE
---
WANT ABSOLUTELY FREE PLAYING & MUSIC ADVICE? 
Check out two offerings below that will help you become a more effective musician by providing lessons, ideas, motivation and principles for moving forward successfully.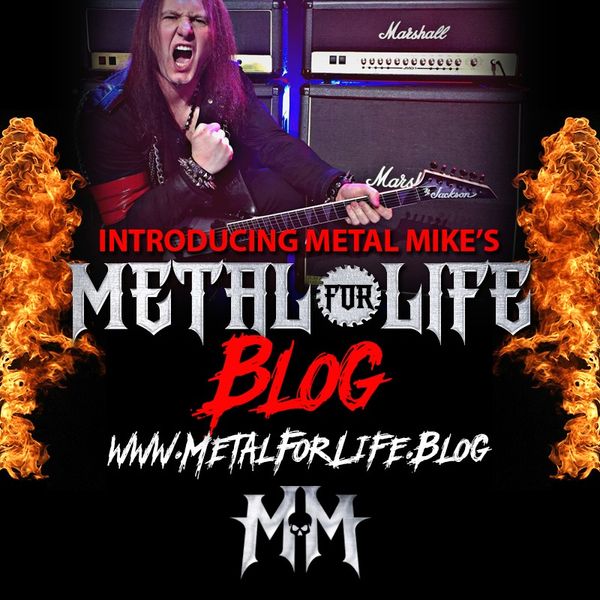 ---
HALFORD & THE METAL GOD